Three Months into Life as a ScrumMaster
Three Months into Life as a ScrumMaster
When I started my role as ScrumMaster here at Venntro three months ago, I wasn't sure what to expect. With a background in Software Delivery Management and Project Management, I was completely new to the concept. Now here I am putting into practise my new skills as a ScrumMaster for two of our four development teams. I am one of two ScrumMasters at the company the other being Ben, a Scrum aficionado who provided me with an excellent induction and helped me settle in.
There are numerous different ways in which the methods of Scrum can be applied including countless ways to run standups, planning and backlog grooming. Thanks to this, teams are able to take the time to work out which approach works best for them. For example, each of our four development teams hold their morning standups differently:
By person - each person goes through what they worked on the day before, what they are planning on working on that day and if they have come across any blockers
By Jira story - by going through each Jira story in turn, the team discuss the current status of that particular piece of work e.g. if it's yet to be started, it's ready for QA, deployed etc.
By Jira story - the team discuss what work was completed on each piece of work the day before including any blockers and how many 'effort points' they want to assign for this work
By calendar - in our planning sessions, the team agree on soft internal deadlines for each piece of work they commit to. In standups, we then run through everything plotted on the calendar to check if we are on track, need to push back or pull forward dates
Each of the above ways that we run standups have their benefits and work best for the individual teams. One of the great parts of Scrum is that you are encouraged to try new and different approaches to things such as stand ups to find the most effective and helpful option for the team.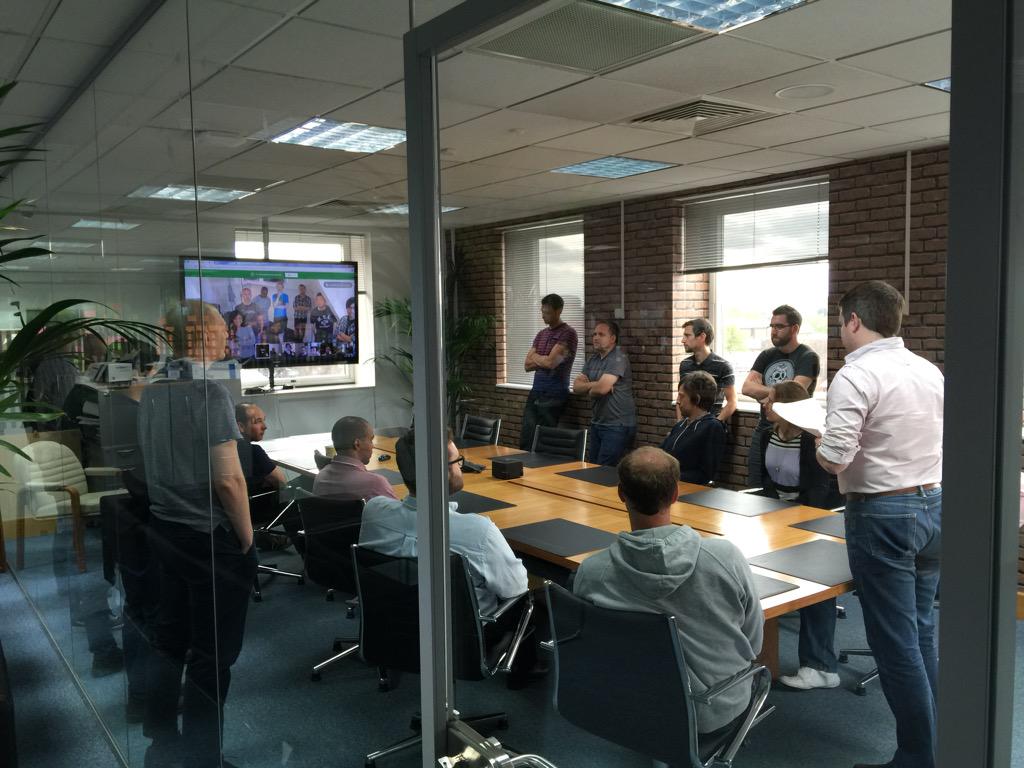 Our weekly development meeting using Google Hangouts between offices and remote workers.
Another part of Scrum which I really enjoy is facilitating for both the Product Owner and team, ensuring that everything runs smoothly. I have always been very organised so this part of the role was a big plus for me when I applied for the position and I have not been disappointed! I have found that self organisation, which is a key part of Scrum, works really well here and the development team as a whole is great at it. Personally I much prefer this method instead of allowing developers and QA's to expect direct instructions as can sometimes be found in Project Management hierarchies.
As ScrumMasters, Ben and I also keep track of all work which our teams commit to in planning, what they complete in each of their two week sprints or carry over to the next. By monitoring how much the team agree on completing within a sprint as well as any interruptions that come up and if there was any underestimated work, this allows us to measure the health of our sprints. A large benefit of this is being able to easily see how and where the teams are improving as well as show the wider business the effects interruptions can have on a sprint. These metrics also highlight if the team is struggling and where, for example if the amount of planned work (committed to in the original planning meeting) completed has reduced from 80% to 30% in the last two sprints but found work (due to underestimations) has increased from 5% to 55%.
A burndown chart for one of our team's sprints, showing the completion of stories.
We keep everything transparent within Venntro and these metrics are sent out to the whole development team when a sprint finishes. A short list of points raised in the retrospective consisting of what the team thought went well, what they feel didn't go so well and how they think we could improve things is also included in the reports. I feel that this is necessary so that everybody can see how each of the other teams are getting on. Another team's QA may be able to relate to a gripe which was raised or perhaps another Ruby developer can offer suggestions on how to improve certain areas based on their own experience.
These last three months have been a big learning curve for me to get out of Project Management mode and into ScrumMaster mode but I am thoroughly enjoying it and still learning every day. There is a fantastic team of Developers, QA's, Ops Engineers, Product Owners and of course ScrumMasters here who are all very friendly, welcoming and supportive. Whether you have a question on our product, ask for opinions on meeting format or bring in homemade chocolate orange brownies that need eating, everybody is always more than happy to help.
---